ALIS Configuration & Setup
In the sections below you will find the support pages that involve the setup and configuration of your ALIS instance.
🗃️🗃️ALIS - Asset Type Management
📍📍ALIS - Asset Management import/export
🔧📋ALIS - Maintenance tasks configuration
👩‍🔧👷‍♂️ALIS - User Management
Terminology - What is what?
Tab

Summery

Assets

Every asset that is in your ALIS database instance is here.

You can modify the properties of the assets by means of our ALIS - Asset Management import/export function

Asset Types

We have many assets that have similar properties (as all of the Touchdown zones lights) We can group these lights together so they will have shared properties. If we then add a maintenance task to this type , all of the assets that have that belong to that asset type will receive that maintenance task as a preventive task.

Defining Preventive maintenance tasks to Asset types and how that influence the colors on the map is further explained here: How-to change the preventive maintenance cycle of an asset(-type) in ALIS

Maintenance Tasks

Here we define the different maintenance tasks that can be registered in the system; They can be put in categories and we need to define if they are Validation tasks or Torque tasks . This is important since it will define whether you need to supply a valid torque value to have the tasks registered as completed.

Validation tasks can also include a "checklist" which will inform the technician the different aspects of that task and can use items to directly create an observation from the ALIS Teams if something needs to be brought to the attention of the maint manager or colleagues.

You can find more information about it here: ALIS - Maintenance tasks configuration

Torque Settings

What is the target torque and limits when performing torque registrations?

For Customers who have a Torque wrench with Angle of rotation measurement , you can adapt the Angles here from which the categories will be created concerning the Initial torque condition of the assets's fixation.

Under the Photometric section, we have Settings.

These settings allow you to modify your default Authority ( ie: ICAO , FAA,..) in order to get an easy view on the compliance of illumination o the assets.

you can also modify

Your own maintenance threshold

Default matching behaviour for the import

Default entity Names when using the mapping table for import match making

Default maintenance task to be performed when registering photometric maintenance

More information about photometrics can be found here : ALIS - Photometrics

The Advisory-Panel contains recommendations and warnings on a higher level than on a per asset level.
The thresholds and whether an advisory is activated or not can be modified in this settings section

More information about Advisories can be found here: ALIS - Advisories
Language and Date setting
You know that problem of USA writes their dates in MM/DD/YYYY and then the Brits who do it as DD/MM/YYYY ? Yes, we have that issue too but we have you covered now.
Just as where you can change the ALIS webapp language to German - French - English ... now you can choose between US English and UK English - this will set the date notation in the format that you are used to!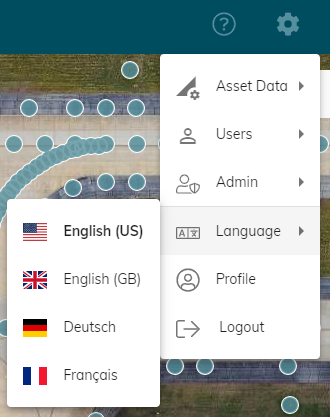 Do you feel you are missing a language setting ? Create us a ticket in the servicedesk and we'll see what we can do for you!

Do you know you can also change the language of the ALIS iOS Apps?