We just released our ALIS for Infrastructure version! Have a look at all the new things we added!
The dropped-pin features is currently only available through the ALIS Web-application. That means you can do it from any computer or tablet running a desktop type browser (ie: Laptop, iPad). The ALIS native apps will support the dropped pin in a later stage
ALIS for Infrastructure
We "dropped" a new feature in ALIS and it's a core change for your maintenance management Tool! You can now drop a pin to create any observation ... anywhere. This means you can now use ALIS for your infrastructure and everything that is not pre-defined as an asset. FOD registrations, Pavement, Markings, Wildlife, Asset additions, ... One way - one overview.
Some practical use cases
The following examples are for non-predefined infrastructure assets or occurances. These don't always require a preventive maintenance schedule but rather a corrective maintenance, actions or refurbishments. Due to the amount, size or occurance these are not pre-registered in ALIS, they are rather "tagged" when needed. The process for handling these observations follows the asset observations method as for assets.
Pavement
You can register cracks in your Runway pavement with different categories for sizes or severities. Track the condition of pavement slabs and where there are severe issues or just document them to gather the information for when it's needed. Add images and notes directly to the report.
Create different Categories in the "Observations Categories" this will allow you to quickly categorise the problems found and can be a good metric for later reporting.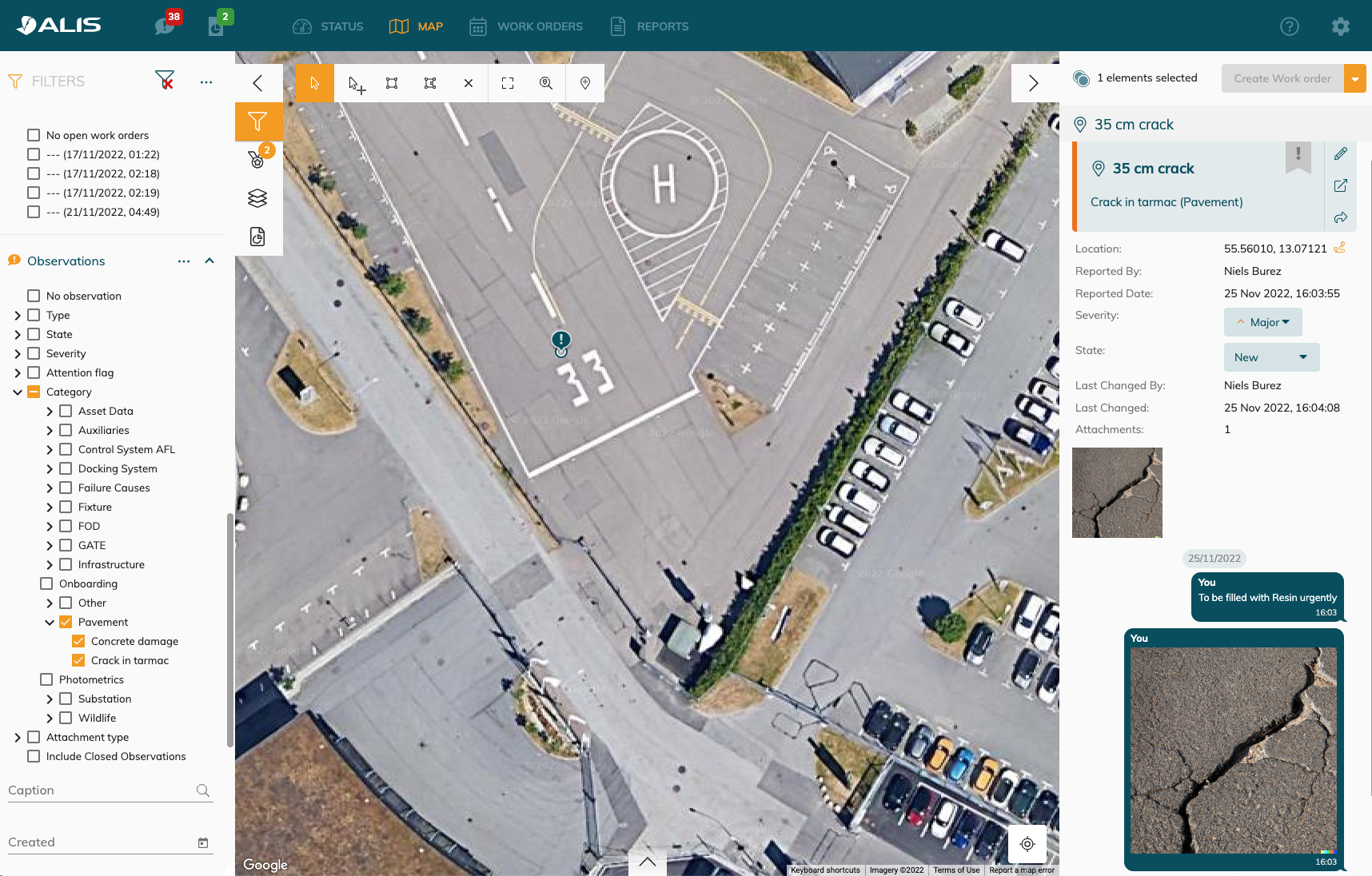 Markings
Marking deficiencies are not something that are usually corrected ad-hoc but follows a life cycle pattern. To define priorities or needs - you can tag these and collect them for reporting afterwards.
If you have Observations that you just want to add for later information ( and no direct action is needed) then set the status to "closed" , to understand wether there is still a problem or not you can change the "Severity" of the observations.

Pro-tip: You can Bulk-/Multi- Edit the observations of a certain selection or category for if a section of marking would be re-worked, all reported deficiencies could be set to "no safety-effect"
Wildlife
Wildlife is maybe not considered as desired infrastructure but it can be something you also want to be able to report on for yearly overviews and long-term action plans. Create different types of wildlife categories so that you can track down what has been reported over the years and what type of wild-life control you need to invest in.
Within the "Observations Categories" you can set that certain categories can only be used for "dropped-pin" observations. This allows you not to have your observation category list cluttered with types that are not applicable (ie: reporting issues on a docking system )
Fencing and security
Airport security is everybody's responsibility and ALIS can support there as well. If there are defects in the fencing, you can mark them. They might not be critical for the direct operation of the runway but it needs to be handled. The Team who is handling the fence is might be outside of your direct organisation but you can now share the observation by link ( if they have access to your ALIS instance) or save a PDF of it and share it by email .
We have added a Print button inside the observation details so you can easily share reported observations outside your direct work environment - Have a look at this fencing issue below that can be emailed to the party responsible for it. It includes all neccdesary data, the location and a QR for linking it back to your instance if needed!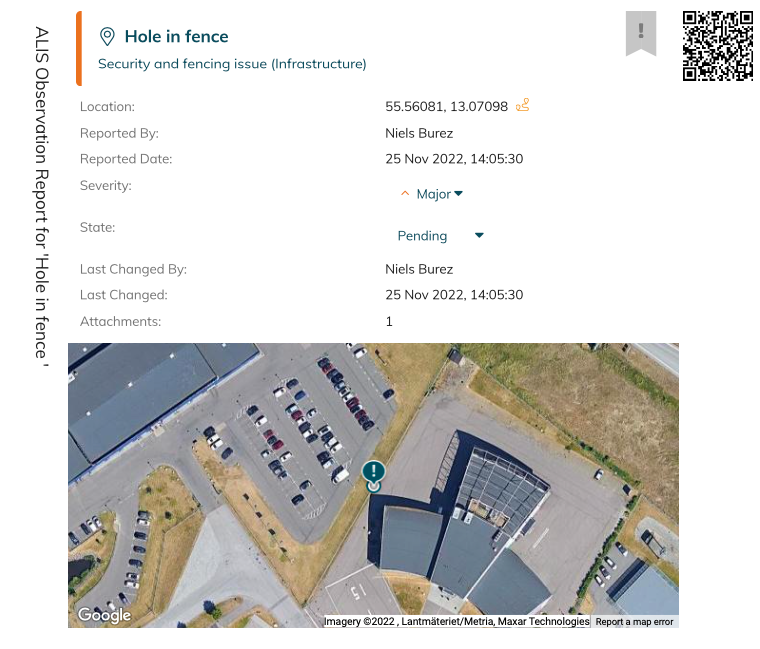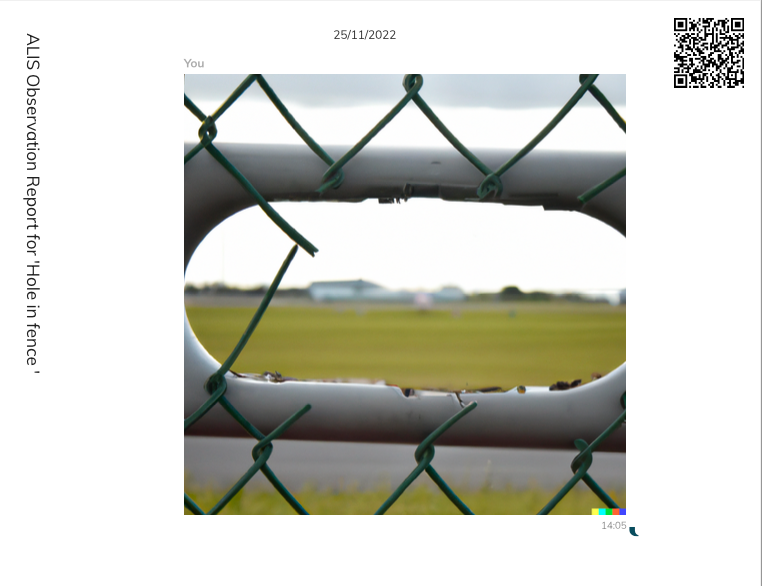 ADB SAFEGATE ALIS _ scademo.adbsg-alis.com.pdf
Surveys and asset creation
When you want to add assets to your instance, you need to know where they are … we typically export the location from Autocad or get the location from Google maps or other positioning services. Now you can perform a dropped pin observation - record the details in the Summary of the observation ( you can added multiple details when they are seperated by a symbol. Once you have all your points you can filter out the survyed objects and use the export function to convert them to assets in a few clicks.
We have added a special observation export function to quickly create assets from dropped pins as for a survey. Toggle to the "observation table" from the map settings or through the burger menu in the asset list. You can now filter and select the dropped pin observations and use the "Generate asset import sheet" - review and added the needed details in Excel - Toggle back to the asset table and use the asset import function.
---
NEW and IMPROVEMENTS in this version
Browse quickly through your observations with the Map-Observation view on the right side (toggles with the Asset details)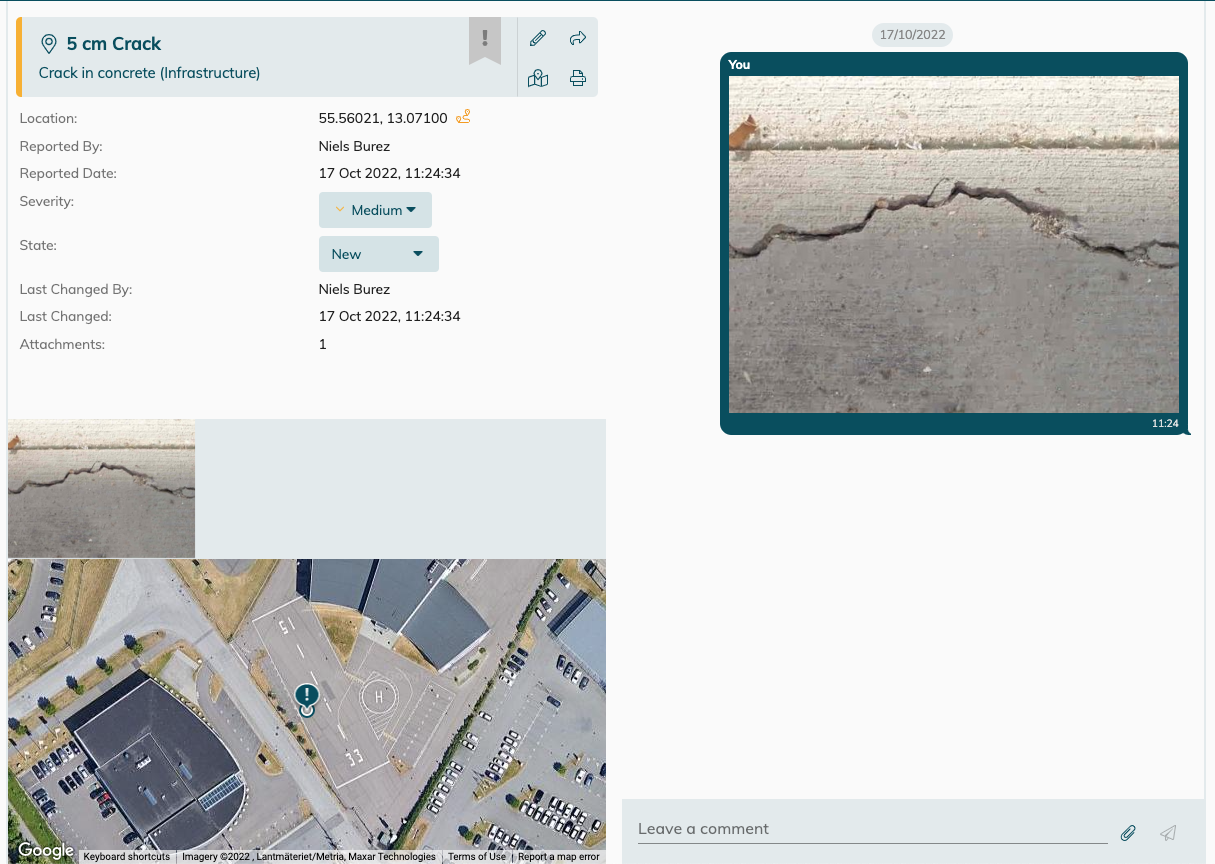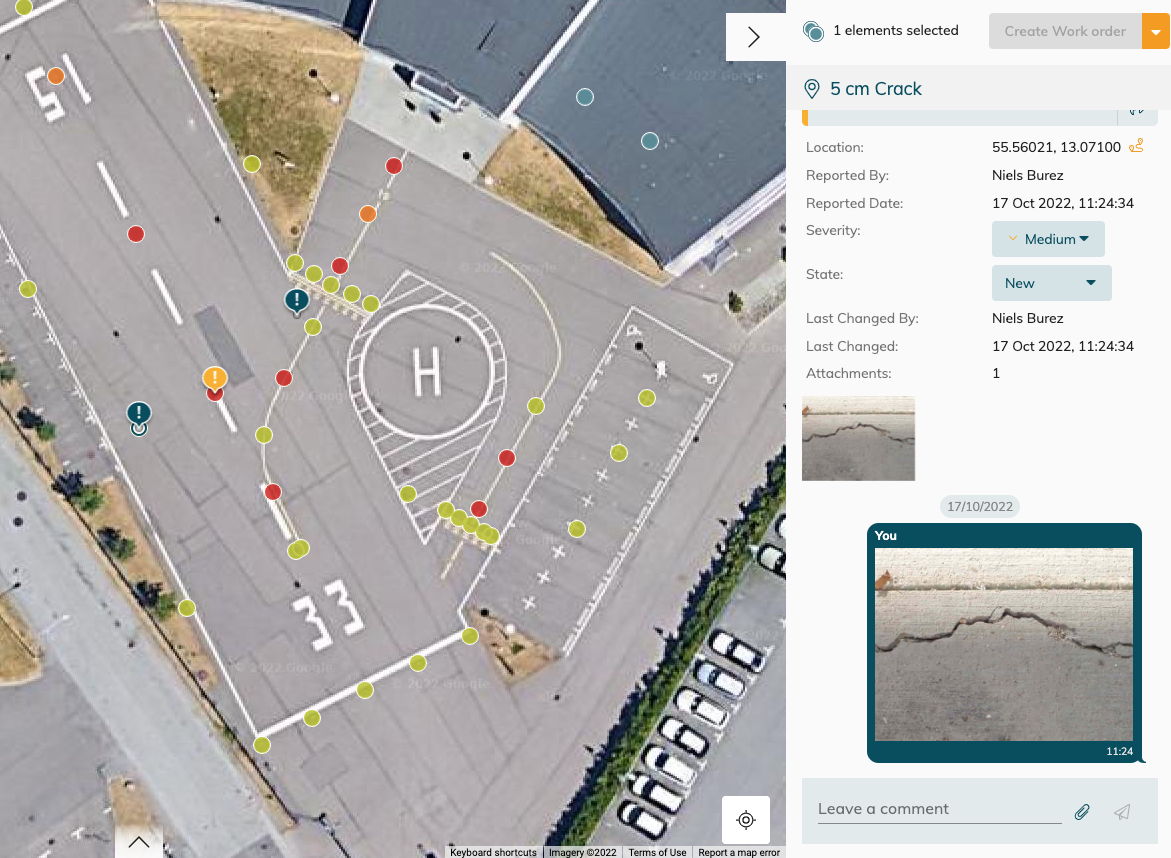 We added Filters for dropped pin type in our Observation filter section

You can now hide/show your Dropped Pin, Asset Observations or Faulty lights in order to Focus on the matter at hand with the Additional "Map Types" functions.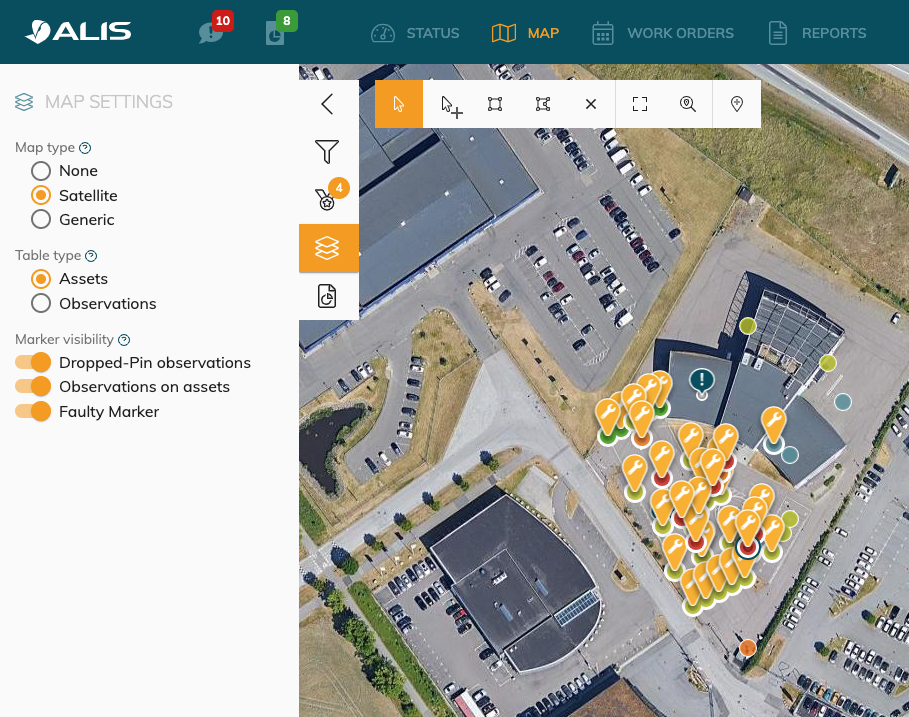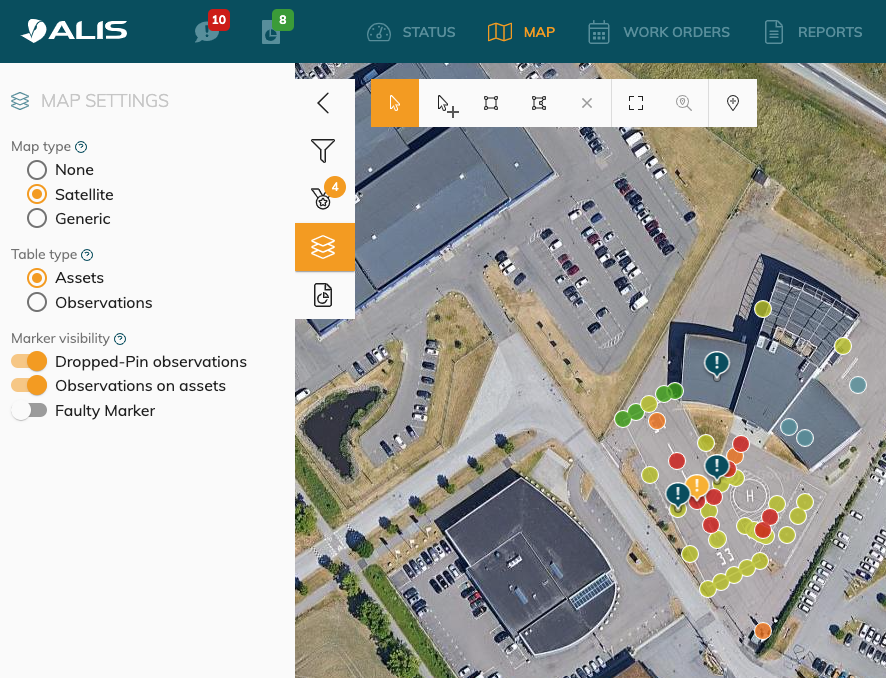 Toggle the Asset table to the Observation table for a better overview of your observations and export features! You can now also export your observations to Excel!


New Observation table with Export to Excel function

You can now (bulk-) delete your unwanted generated reports in the "Reports"-section

There is a new "Zoom to all assets" and "Zoom in on focused asset" buttons, you find them in the tool bar at the top of the satellite-map


Restrict your Observation categories to only dropped pin or Asset related in the Observation Category Editor

---
Have a question or suggestion? Make ticket in our support desk! https://adbsafegate.atlassian.net/servicedesk/customer/portal/63